Use the search function to find similar problems before posting. You will need to add that also to the class path and make it available at run time. Search everywhere only in this topic. Please clarify your specific problem or add additional details to highlight exactly what you need. Setup' at the end of this command with 'org. For small bits of code less than 50 lines in total , single classes only , the default code formatter is fine one blank line , then 4 spaces before each line.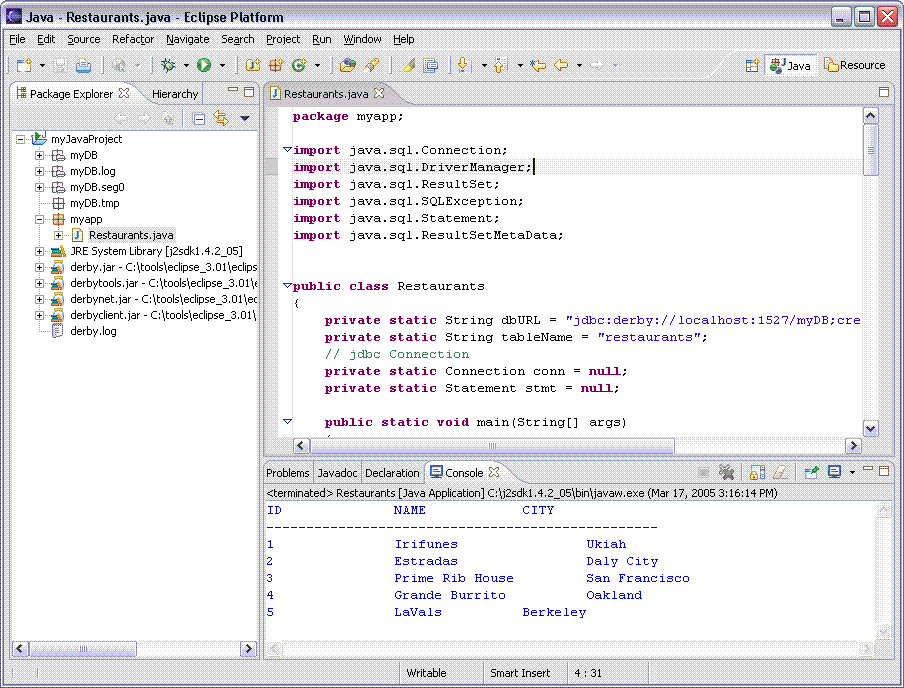 | | |
| --- | --- |
| Uploader: | Akitaur |
| Date Added: | 25 March 2015 |
| File Size: | 17.66 Mb |
| Operating Systems: | Windows NT/2000/XP/2003/2003/7/8/10 MacOS 10/X |
| Downloads: | 73268 |
| Price: | Free* [*Free Regsitration Required] |
Do not submit executable jar or compressed zip, rar, 7z, etc. Like Ron Rudy, I'm also unsure about the leading colon, I generally don't have that.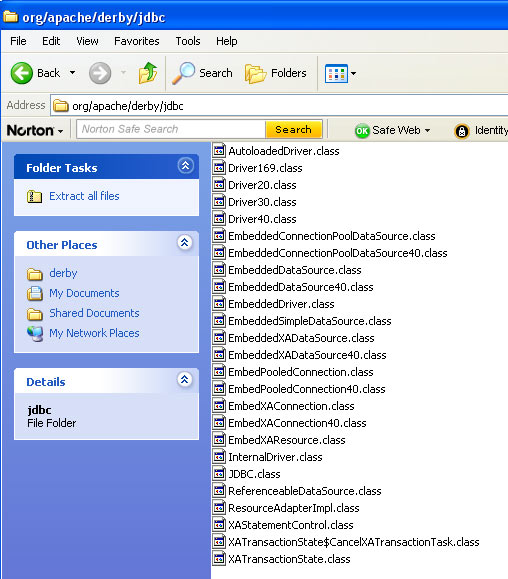 You will first need to load the derby driver class. If this question can be reworded to fit the rules in the help centerplease edit the question. To suutable that, add this code before the DriverManager. I'd also recommend reading some documentation before jumping right in as well.
So it should be org.
Apache Derby Users – Derby : No suitable driver found for jdbc:derby:db;create=true
You need to load the driver during application's startup before connecting the DB. You can use the connection string as 'jdbc: It got fixed on Linux as below: You think i need to specify the complete path Possible duplicate of The infamous java.
Thanks — View this message in context: There should be a derbyclient. Cool When the app runs, the JVM uses the class path settings to noo any other classes defined in the utility. Here is the solution: I was missing DriverManager.
If I haven't answered your question properly, tell me. Iain Ballard 3, 23 Where do I need to add it?
Similar Threads
Do I have to specify the user APP as default and the password I can't find out how to set a new pass, the default seems to be empty reading derby tutorials? If these run, then the classpath is working properly, as least for Derby's purposes.
I rather doubt that the asterisk is doing what you expect it to. For the login I use an activatable server this app uses java rmithen, once I'm done with this derby problem, I'll use another "normal" server that extends UnicastRemoteObject. In reply to this post by ronchalant.
No suitable driver found for jdbc:derby
Database 'addressbook' not found. I'm trying to configure ho derby, but I run into this error: Please post code as code and not images. In this case I'm testing using my Local. Databases are created by default in the directory where the Network Server was started up.
For beginner errors, generally they provide solid answers. It looks to me like the classpath does not contain the correct. You may be missing to start the Derby server.
This seems to solve the problem for me. Note that in the sample I gave, which came from the first link Derby's own help tutorialit actually creates an instance of the specified object.
The only other things I can think to try are: I solved this by adding library to the library console below my project: